Murder In The Car Park
Motive For Murder
Daniel was a private investigator in 1980s, London.
He operated out of a office with fellow investigator and business partner Johnathan Rees.
They worked on the side gathering stories for the infamous "News Of The World"
The Newspaper would later be tarnished from the "phone hacking scandal"
The pair were even involved in the training of the "Fake Sheik" a controversial character they used to trick famous people into admitting secrets for headlines
All this was going on in the background of a conspiracy , somebody wanted Daniel dead.
He was brutally murdered with a axe to the head on 10th March 10987 @ 9.40 pm in the car park of the Golden Lion public house.
The Suspects
Straight away the last person with him and his business partner Mr Rees was the prime suspect.
Subsiquently he was arrested but no case bought against him or his co defendant.
DS Sid Fillery was arrested for perverting the course of justice but later charges were dropped.
Open Case
34 Years later and still no one has ever been convicted of his murder.
The independent inquiry learnt those close to him believed he had a story on corrupt police and was going to sell to the press before he was killed.
The Independent Report Panel
The Report Panel said this was never investigated and was a element of the wrong-doings by the met in the case.
The murder of Daniel Morgan on 10 March 1987 left his wife, Iris, without her husband, and their two young children, Sarah and Dan, without their father.
A independent report panel this week June 2021 has concluded their results of all five investigations into his death over 34 yr period.
The Crime Scene
The first investigation of Daniel Morgan's murder (the Morgan One Investigation) was conducted by the Metropolitan Police.
There were multiple very significant failings in the conduct of this investigation from the moment of the discovery of Daniel Morgan's body.
Corruption & Cover Ups
The management and administration of the investigation was poor, and in many respects was not compliant with relevant policies and procedures.
A second investigation was established in June 1988.
The decision was made that a police force, other than the Metropolitan Police, would carry out the investigation because of the corruption allegations.
It was conducted by Hampshire Constabulary, supervised by the Police Complaints Authority.
Its remit was to investigate 'allegations that police were involved in the murder of Daniel Morgan.
It was understood that this was an independent investigation but a senior Metropolitan Police Officer, with full access to the investigations was appointed to work with Hampshire Constabulary in January.
Third Time Lucky
The 2000 Murder Review began on 26 June 2000 and reported in October 2000.
It made 83 recommendations for further investigation.
The review was effective in its examination of the Morgan One Investigation, but it did not focus in any detail on the Hampshire/ Police Complaints Authority Investigation and as a consequence further available investigative opportunities were not identified.
The Conspiracy
It is also possible that local officers involved in identified lucrative corrupt practices, such as, selling confidential information and assisting criminals
They were 'moonlighting', and thought that their police careers and pensions were under threat, and that future, potentially lucrative,
Them options might be put at risk by Daniel Morgan's alleged intention to reveal what he knew.
The evidence supporting this theory as to why Daniel Morgan was murdered was never seriously investigated.
Secret Organisations
In the years following Daniel Morgan's murder, several of the police officers connected to Daniel Morgan's circles and business were investigated for and convicted of serious crime.
A source of recurring suspicion and mistrust in the investigations of Daniel Morgan's murder has been police officers' membership of the Freemasons.
Grandmasters
DS Sidney Fillery was a Freemason and became Master of two different Lodges in 1993 and 1996.
Ten police officers who were prominent in the Daniel Morgan murder investigations were Freemasons.
Police Statement
Investigating officers entertained doubts as to whether Masonic loyalties, which all Freemasons swear to uphold.
In reponse to the damning report met police said,
Dismissive
The Met of today is not the Met of 34 years ago.
"We've transformed how we investigate homicide and major crimes as well as how we identify misconduct, root out corruption, liaise with families, work professionally with the media, handle informants, and conduct forensics, covert operations and vetting.
In the Met, we want to be the most trusted police service in the world. We are working to earn this trust by being true to our values of professionalism, integrity, courage and compassion."
The Reality
In 2006, historical intelligence about 19 former police officers associated with former
DS Sidney Fillery, Jonathan Rees and Law & Commercial revealed shocking facts.
Ten of the police officers had been convicted and imprisoned for criminal offences including false imprisonment, perverting the course of justice, and conspiracy to pervert the course of justice.
Some also had drugs offence and had been accepting bribes.
Institutional Corruption
Another officer was obtaining property by deception, supplying drugs and theft of files.
As well as the ten convicted and imprisoned officers, one officer had resigned while under investigation.
One Officer had been dismissed from the Metropolitan Police for failure to meet standards of honesty and integrity.
Another had been demoted but later reinstated before retirement on
a full pension.
Freemasons
The Freemasons are a secret organisation with no transparency.
Hundreds of years after it formed It remains a secret society, or "a society with secrets" as it prefers to put it.
There will always be some on the outside, unable to peer in, who will assume the worst that the fraternal ties of the brotherhood could encourage improper conduct in public life.
What do we know about Freemasonry?
There are about six million Freemasons around the world, about 200,000 of them in England and Wales. That means there's been a drop in membership of about 150,000 in England and Wales in the last 20 years.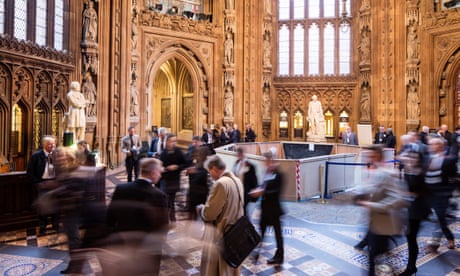 Darkness or Light
There are about 30,000 active masons in Scotland and about 25,000 in Ireland, 70% of them in Northern Ireland.
The basic unit of organisation is the lodge, of which there are about 6,300 in England and Wales. Some have exotic names. There's the Chapter of Sincerity in Norwich, for example, and the Swan of Avon in Warwickshire.
Lodges are organised in towns and cities, at universities or around schools, recruited from trades or professions, or are based upon military units.
They have also been organised around other interests, such as football or rugby fans.
The Mike Hailwood lodge recruits motor racing fans.
The Lux In Tenebris lodge – light in darkness – was established toward the end of the first world war for blind masons.
There are a number of lodges for women, governed by their own grand lodges, but those governed by UGLE are entirely male affairs.
No Organisation For Young Men
Despite efforts to recruit younger men, particularly undergraduates, masons are also predominantly middle-aged or elderly.
Only 2% in England and Wales are under 30, but more than 10% are over 80.
Candidates were traditionally recruited by word of mouth, but in the digital age men can apply online.
Rituals & Ceremonies
Some of the rumours about the ancient initiation ceremony are true.
The candidate must roll up one trouser leg to show that he is healthy and unshackled, a free man. He must expose his left breast to show that he is not a woman.
A rope noose known as a cable tow is placed around his neck. This represents either an umbilical cord or ties to fellow masons. It is open to interpretation.
He is then led blindfolded into the lodge meeting room, where he is introduced to the secret signs of recognition – a word, a handshake, a symbol – and expected to deliver oaths of loyalty and secrecy.
The blindfold is removed and he is shown the light.
At this point, he is an entered apprentice.
Further initiation ceremonies are required before he can be accepted as a fellow craft mason and then a master mason.
With each stage, known as a degree, comes a different ceremonial apron.
There are other regalia – collars and white gloves and badges – and a plethora of ranks, with titles such as assistant grand pursuivant and grand sword bearer.
What are your thoughts on the revelations of the report?
For more coverage
About Author