Thousands of PlayStation 4 gaming consoles have been seized after their discovery in an old warehouse, used to illicitly mine for cryptocurrency.
Ukraine's Security Service said that in the city of Vinnytsia, located along the Southern Bug river, there was an abandoned warehouse in its industrial area that once belonged to an electricity company, JSC Vinnytsiaoblenergo.  
In the city of Vinnytsia, the SBU has exposed and documented a large-scale electricity theft. The offenders mined cryptocurrency in one of the former premises of JSC Vinnytsiaoblenerho. Ukrainian law enforcement seized almost 5,000 computers. It is the largest underground crypto farm.
SBU officers established that the residents of Kyiv and Vinnytsia cities set up illegal crypto farm in a former warehouse of JSC Vinnytsiaoblenerho, located in the facility's industrial park.
The offenders stole electricity of JSC Vinnytsiaoblenerho. To conceal their activities, they used electricity meters that did not show a real energy consumption.
According to preliminary estimates, the monthly losses to the state ranged from UAH 5 to 7 m. (USD 186,200 to 259,300). However, such illegal activity could lead to power surges and left people without electricity.
The SBU initiated criminal proceedings for the theft of water, electricity or thermal energy through its unauthorized use.
During the authorized searches of the offenders' residences and crypto farm, law enforcement seized:
3,800 game consoles;
over 500 graphics cards;
50 processors;
draft documentation on electricity consumption;
notebooks, phones, flash drives.
Currently, investigative actions are underway to identify all the people involved in illegal activities. Involvement of the officials of JSC Vinnytsiaoblenerho is being checked.
The operation was carried out by the SBU Department for CI Protection of State Economic Interests jointly with the SBU Office in Vinnytsia region and the Main National Police Investigation Department, under the supervision of the Prosecutor General's Office.
Crypto mining
More locally in Dudley police found another illegal mine in a industrial estate.
Police initially thought it was a cannabis farm.
Officers had been tipped off about the site on the Great Bridge Industrial Estate, Sandwell, and raided it on 18 May, West Midlands Police said.
Instead of cannabis plants they found a bank of about 100 computer units.
The force said the cryptocurrency "mine" had effectively stolen thousands of pounds of electricity.
Inquiries with network operator Western Power Distribution found an illegal connection to the electricity supply.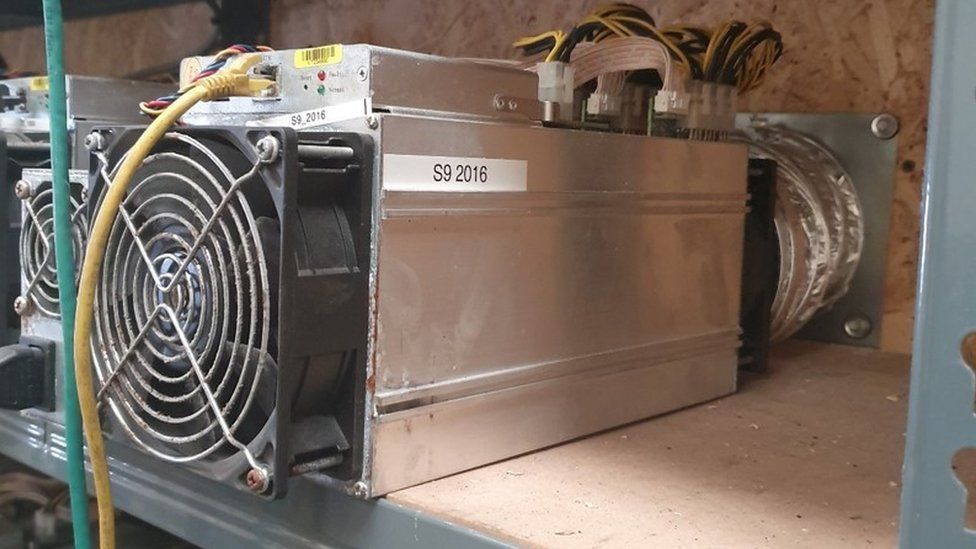 Detectives said they were tipped off about lots of people visiting the unit throughout the day and a police drone picked up a lot of heat coming from the building.
Sgt Jennifer Griffin said, given the signs, they had expected to find a cannabis farm.
"It had all the hallmarks of a cannabis cultivation set-up and I believe it is only the second such crypto mine we have encountered in the West Midlands," she said.
The computer equipment has been seized but no arrests have been made, the force said.
About Author