A 19-year-old man has been found guilty of murdering 16-year-old Sarmad Al-Saidi in Preston two days before Christmas.
Sarmad was stabbed in the chest and legs in a conservatory in Chatham Place on 23 December 2020 before being taken to hospital and dying on 27 December after never regaining consciousness.
Jamie Dixon, 19 was unanimously found guilty of murder today (27 July) after a trial at Liverpool Crown Court.
Detectives launched an investigation into the murder which revealed the individuals who carried out the frenzied attack to be Dixon and a 16-year-old, who cannot be named for legal reasons.
They were assisted in the conspiracy by a 17-year-old boy, who also cannot be identified for legal reasons.
A jury at Liverpool Crown Court heard how earlier on the day of the fatal attack, the 17-year-old, had text Sarmad to find out his location under the guise of arranging a meeting to discuss a £25 debt.
The 17-year-old, who himself entered the conservatory with a baseball bat, convinced Sarmad to lay down his machete and then waited for a phone call from his co-conspirators so he could give the signal for them to proceed.
When they had received the signal from the 17-year-old that Sarmad was unarmed, Dixon and the 16-year-old put on balaclavas went into the conservatory and stabbed their defenceless victim with a hunting knife and a machete.
Dixon and the 16-year-old then fled the scene with their weapons, around two minutes after they had entered the conservatory.
The 17-year-old stayed at the scene, pretending not to know the identity of Sarmad's attackers – at one point even asking a witness to lie and say the baseball bat wasn't his.
Around 15 minutes after the attack, Dixon received a phone call from a friend at a Young Offender's Institution. During that call he boasted about how he had just "done" Sarmad.
Detectives later retrieved a video from the 16-year-old's phone, recorded on the day of the attack, in which the defendant is seen waving around the murder weapon and talking about how he "stabbed Sarmad up".
Evidence secured by officers showed the attack had been in the planning for a number of days.
The 17-year-old, who was initially treated as a witness, gave a statement to police saying how he was "chilling" in the conservatory with Sarmad when two unknown males pushed him out of the way and stabbed his friend.
He was arrested on Christmas Day and initially gave a similar account to police, before changing his statement to say that he knew Dixon and the 16-year-old were the attackers but that they acted of their own volition and without any support from him.
The 16-year-old was arrested on Christmas Eve and initially said he was at home all night. He later changed his account and said he was involved in the attack on Sarmad but only wanted to hurt him and never intended to cause him any serious harm.
Dixon was also arrested on Christmas Eve and answered no comment to all questions put to him.
Today, at Liverpool Crown Court Dixon was unanimously found guilty of murder, while the 17-year-old was found not guilty of murder but guilty of conspiracy to commit Section 18 Assault.
Dixon, of Clayton Avenue, Leyland; the 16-year-old and the 17-year-old will be sentenced on September 30.
DCI Lee Wilson, of Lancashire Police's Force Major Investigation Team, said: "This gratuitous and senseless violence has led to a family being robbed of their much loved and cherished son and our thoughts remain with them at this time.
The family
The courage and dignity Sarmad's parents and their support of the police and legal team throughout the investigation and court process has been exemplary and serves as a fine testament to their late son.
"I welcome the decision of the jury and I am pleased these three individuals will now be held to account for their cowardly actions.
I would like to thank all the officers, North West and Air Ambulance service and NHS colleagues who battled to save Sarmad's life and the officers who conducted the investigation.
I should also like to than colleagues from the Crown Prosecution Service and QC Mr Nicholas Clarke for their tireless work in helping to achieve these verdicts.
"This is a desperately tragic case, involving young males who decided to use weapons and a completely unacceptable level of violence to settle their differences.
Those decisions have led to Sarmad – a 16-year-old boy who had his whole life ahead of him – losing his life, loving parents losing their son and those responsible now facing lengthy custodial sentences.
"I would ask anybody, particularly young males, to remember this case and Sarmad when they consider leaving the house with a weapon and the potentially devastating and fatal consequences that could bring. Violence can never be the answer and a matter of moments can ruin so many lives."
More than £6,000 has been raised to go towards building water wells in different countries in memory of a teenage boy who died after a stabbing in Deepdale.
Sarmad Al-Saidi, 16 died on Sunday night (27 December) as a result of knife crime.
The 16-year-old died in hospital four days after being stabbed in his chest and legs.
Police were called to an address in Chatham Place at 5.43pm on Wednesday (December 23).
Read more: Parents pay tribute to teenager Sarmad Al-Saidi who died after Deepdale stabbing
One of Sarmad's best friends, Safyan Akhtar, 18 told Blog Preston: "Sarmad was always giving back to those in need, and for his sake we are giving back to those in poorer countries.
"Once we hit the target for the wells we plan on continuing this to try and build the foundation for a mosque."
Safyan described Sarmad as active and he loved to play football and exploring new places with a view.
He added: "Sarmad meant everything to me and still does mean everything to me; he was my best friend since primary school.
"He means the world to me and so does his family, his mother calls me her own son and due to this I will never let her down and will do anything I possibly can to support her family along with mine and Sarmad's best friends."
You are able to donate to the Just Giving page here.
Olly Stephens murder
This comes days after Two schoolboys who ambushed a 13-year-old boy and stabbed him to death after a dispute on social media have been found guilty of murder.
Olly Stephens suffered fatal stab wounds to his chest and back in a field in Reading, Berkshire, on 3 January. 
Set up
He had been lured there by a girl and was then attacked by two boys carrying knives, Reading Crown Court was told. 
The girl, 14, admitted manslaughter. She will be sentenced with the two boys, also both 14, at a later date.
None of them can be identified for legal reasons.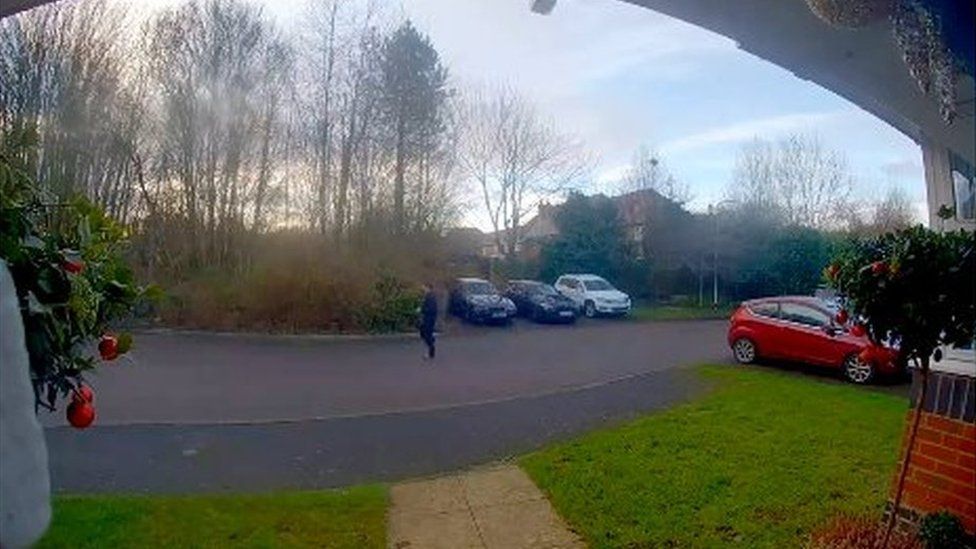 His killers had fallen out with Olly because they believed he "grassed" on them to the brother of a boy they had mocked in a social media group chat, the trial heard.
Voice notes and text messages were presented to the jury in which the boys talked about taking revenge.
"He's actually getting banged when I see him," one message said.
Another added: "I actually hate the kid with a passion, like if I was to see him right now I'll probably end up killing him or something."
The girl was recruited to lure Olly to Bugs Bottom fields, near his home in Emmer Green, as part of a "set-up", the jury was told.
She suggested in messages exchanged before the killing that Olly deserved what was coming and described it as "karma", the court heard.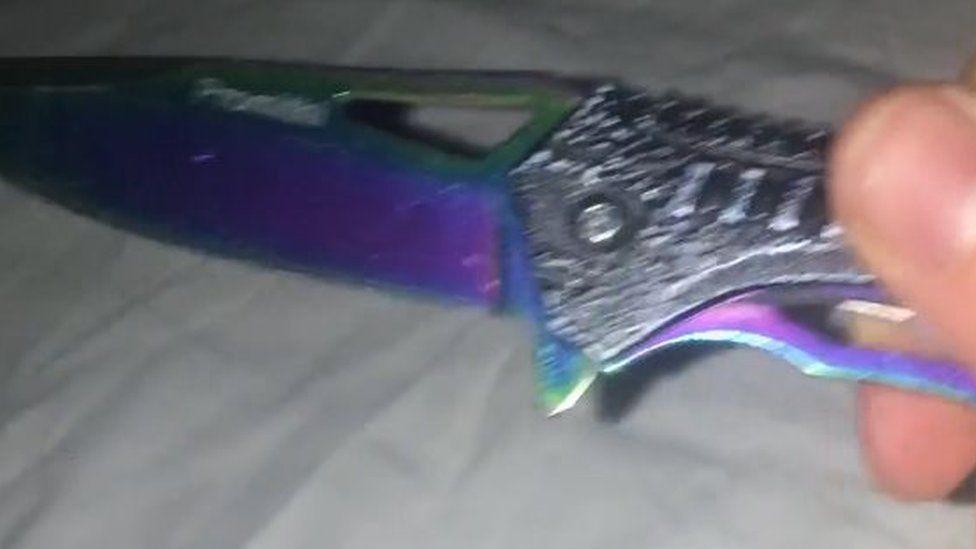 Alison Morgan QC, prosecuting, said Olly had no idea he was about to be attacked.
"This was an ambush on him. A planned attack that was designed to put him in a vulnerable position," she said.
One blade penetrated 17cm (6.5in) into Olly's back, and another wound in his chest was 9cm (3.5in) deep, the jury heard.
An off-duty nurse walking her dog found the fatally injured teenager and attempted resuscitation, but he was pronounced dead at the scene.
The court heard the killers tried to dispose of evidence and exchanged messages on Snapchat about the attack, with one of the boys describing it as "the biggest mistake of my life".
Both boys were also convicted of perverting the course of justice.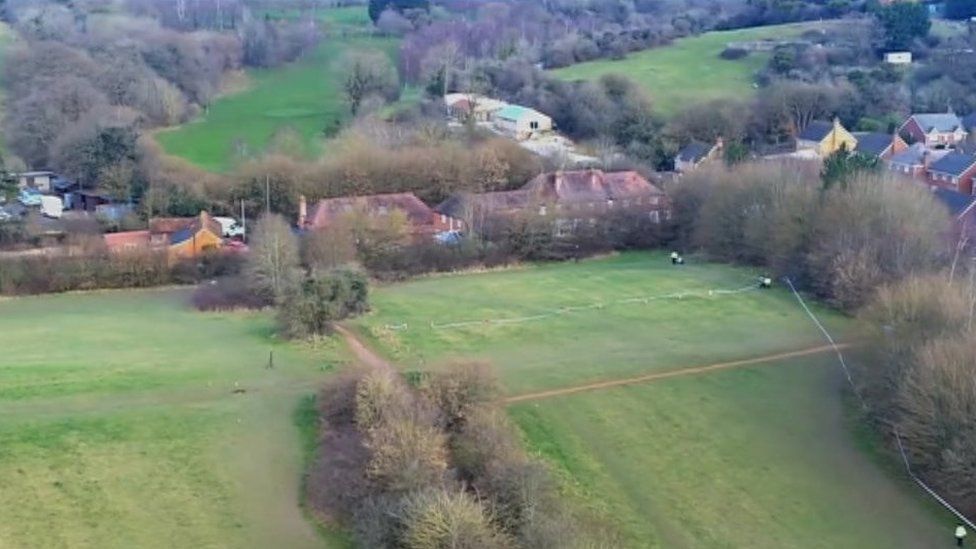 In a statement issued after the verdicts, Olly's family described the stabbing as a "callous and cold-hearted act".
"He left our home on that fateful afternoon with love and laughter in his heart, with the hope of a bright fun filled future ahead of him," they said.
"Within 13 minutes of leaving the safety of his loving home Olly had left us forever.
"Two minutes was all it took to end him and cause us and our family catastrophic heartbreak."
They added that Olly was "warm, kind, soulful, a deep thinker and a great carer to those around him".
Hundreds of people have turned out for the funeral of a 13-year-old boy who was stabbed to death.
Oliver Stephens, known as Olly, died from his injuries on 3 January after being stabbed in Emmer Green in Reading.
Mourners threw roses as the funeral cortege made its way through Emmer Green past Olly's old schools and St Barnabas Church.
A service has taken place at Reading Crematorium. 
Funeral
Speaking during the service Stuart Stephens, Olly's father, said it "was the stuff of nightmares" when "a knock on the door shattered our lives".
"No-one should have to receive news like this or deal with a situation as horrific," he said. "But we are blessed, the time we shared with Oliver is our most precious gift."
He added: "Oliver touched so many lives without either us or himself knowing it, we now know."
A fundraising appeal for the teenager, who was autistic, has raised just over £21,000. The money will go towards Olly's family, and partly towards knife crime charities, the appeal said.
n a statement, Highdown School, where Olly was a pupil, said the "shock and disbelief continues to be felt", and added many staff and students had received counselling arranged by the school.
"We know that many will need to continue to access these services in the weeks and months come," it added.
Matt Rodda, MP for Reading East, described the day "as very, very moving". 
He said: "This has been the most awful tragedy both for Olly's family and to the wider community here.
"People have been genuinely deeply shocked by this awful incident." 
Many of the hundreds of people who came out of their homes to pay their respects to Olly Stephens were children; his friends and his neighbours.
Most wore red and were holding single red roses. Red was Olly's favourite colour.
The funeral cortege left his family's home just before 11:00, first passing his school, then driving along the local streets, and through Caversham Park Village.
Olly's coffin was colourfully decorated. A floral rainbow, a cuddly toy and a packet of sweets could be seen through the back window of the hearse as it passed.
As the cortege approached Reading crematorium people threw single red roses onto the bonnet and clapped in his memory. There were tears and hugs.
Why is inspiring the kids to want to kill each other in England?
Teenagers setting each other up and carrying weapons.
What can be done to educate and change the mindset?

About Author