Lee McKnight was no angel this was something I learnt from speaking to his family.
At the same time he had a good heart and would do anything for his friends.
He was also very trusting of his ex girlfriend Coral Edgar.
On the 24th July at 2 am in the morning Lee was lured to Corals home she shared with her mom in Charles street.
He was last sighted on the forecourt of a Tesco filling station off Warwick Road in Carlisle at around 7pm on 23rd July.
The jury was shown footage from a host of different CCTV cameras capturing the journey of a taxi which transported Mr McKnight from his city home just after 2:30am the following morning.
It dropped him in the Fusehill Street area, close to the Charles Street address in which it is alleged he was "beaten to the point of death".
It would have quickly dawned on Lee he had been betrayed.
On arrival, Instead of Coral answering the door he was greeted by Jamie Davidson, Arron Graham And Jamie Lee Roberts.
A horrendous ordeal ensued which lasted several hours and resulted in 36 separate head-wounds, a fractured skull and several broken ribs made him look like a "torture victim."
He had been punched, kicked, stamped on and beaten with a riding crop belonging to Coral's mum while he was tied to a chair.
The prosecution said that Coral Edgar had cynically 'lured' Mr McKnight to her Charles Street home with a promise of sex, though she denied this.
Honeytrap
Mr McKnight was attacked at the Charles Street address and then transported to the river at a time when he was a "marked man" and owed a debt to a fellow drug dealer which possibly ran into thousands of pounds.
Jamie Davison was a prolific drug dealer in Cumbria, generating more than £500,000 a year in criminal money.
Mr McKnight was one of Davison's customers and had been avoiding him as he owed him a large sum of money.
On 24 July last year, after threatening Mr McKnight and his family, Davison and his accomplices lured him to the home of the Edgars in Carlisle city centre where he was savagely beaten.
Torture
Neighbours reported witnessing kicking, punching, stamping, the sound of a horse whip and screams coming from the house above the loud music.
Coral Edgar was also seen mopping up blood.
Despite the horrific violence, Mr McKnight was still alive when he was taken out of the address to be driven to the river where he was disposed of.
Although the cause of death was drowning, pathologists said he would have died from his injuries regardless without hospital treatment.
After the attack, Jamie Lee Roberts called his father, Paul Roberts, 51, and he and Coral Edgar's mother, Carol Edgar, 47, soon arrived at the scene.
Carol provided the Nissan Navarra which took the deeply unconscious and brutally beaten Mr McKnight to the river.
Conspiracy
When it became clear to the killers that they were going to face justice, they began blaming each other and making up complicated lies to cover their own tracks.
26-year-old Arron Graham also gave evidence against his co defendents
Graham said he had known Davison for around 10 years.
There were some times when the pair didn't get on, but others when they pooled money to buy cannabis. He had no role in Davison's drug-dealing and was no longer friends with him.
On the evening of July 23, Graham said he spent time drinking with Roberts at a Grey Street address on what was the teenager's brother's birthday.
Graham then visited the nearby home of a women with whom he was in a sexual relationship, with Roberts. The teen then left — because Graham and the female began kissing, he assumed.
Graham recalled drinking gin that night and said he left his girlfriend's to go home — getting on for daylight — but was unsure exactly what time.
Asked by his barrister, Fiona Horlick QC, what sort of state he was in, Graham replied: "Not a very good one."
He denied going to the Charles Street address that night. "Did you seriously assault Lee McKnight?" asked Ms Horlick.
"No, definitely not," responded Graham.
"Is that something you would do?" his QC asked.
"No," replied Graham.
Getting rid of the body
Ms Horlick asked: "Did you have anything to do with dumping that car in the woods at Wreay that night?" Graham responded: "No, certainly not."
His barrister had also asked: "Jamie Davison says that he spoke to you at some point the evening about Lee McKnight going around to Charles Street, and he wanted you there because you were allegedly friendly with Lee McKnight and would be able to help him.
Did he ring you?"
"No, definitely not," Graham said, "and I am not friendly with Lee KcKnight. I know him to say 'hiya' to, and that's as far as it goes."
Graham said he couldn't recall the content of several earlier phone calls with Davidson.
He spoke of "bumping into" Davison in the Upperby area on the morning of 24th July. "He just said he had been in a police chase and (asked) could I pick a vehicle up for him."
The Nissan
Later that day, Graham said he cycled out to Wreay woodland, where he followed tracks and found the Nissan Navara used to transport Mr McKnight to the river.
The keys were already in the ignition but he couldn't move it, he said, because it was "stuck". Jurors have heard the DNA of Graham, who said he returned to Carlisle, was later found on the driver's controls.
"If you had known that car had been involved in the killing of Lee McKnight, in one shape or another, would you have touched that car?" asked Ms Horlick.
The barrister had earlier asked Graham: "This case is, of course, about Lee McKnight's death. How do you feel about that?"
Graham replied: "It's a bit sad, isn't it."
A strong case was built as the CPS provided the police with early advice at the beginning of the investigation which gave clarity on which lines of enquiry to explore.
Prosecutors were also able to unpick the deceptions by working closely with the police to investigate CCTV, phone, forensic and witness evidence.
Isla Chilton, of the CPS, said: "These co-conspirators can't or won't face up to the fact that they were all in their different ways responsible for Lee McKnight's death or helping those responsible for his killing.
Instead they rely on lies to absolve themselves of responsibility and shift the blame onto each other.
"Although this was a complex case to bring to trial, we worked closely with the police from the outset to provide early advice to ensure we built the strongest possible case.
Through a careful investigation of CCTV, phone and forensic evidence, the CPS was able to present the jury with compelling evidence that undoubtedly showed the guilt of the accused.
"Lee McKnight's tragic and senseless murder has shocked the community all due to the greed of the drug dealers.
We hope that his family and friends feel that justice has been served because of today's verdicts.
I pay particular tribute to Mr McKnight's family for the dignity that they have shown throughout this trial, with the extra burden of being witnesses in the case."
Just over an hour later, that Navara was captured leaving the Charles Street area as dawn broke, travelling along Blackwell and Durdar Roads, and then Lowry Street, before heading down a track and across a field to the River Caldew just before 4-45am.
The mother
Carol Edgar, 47, was recalling the moment she was arrested at the Charles Street home in Carlisle where she lives with her daughter Coral, 26.
The two women, along with four men, deny murdering 26-year-old Lee McKnight on July 24 last year.
The prosecution says Mr McKnight was severely beaten at the women's Charles Street property before being transported – badly injured but still alive – to farmland south of Carlisle and then dumped while still alive in the River Caldew.
He died from the combined effects of drowning and the injuries he sustained – some inflicted with a riding crop, the court has heard.
The jury today heard a summary of what Carol Edgar told the police. The prosecution says that her black Nissan Navara pickup was used to transport Lee McKnight to the River Caldew after he was attacked.
The jury has seen a series of CCTV videos (below) tracking the Nissan's movements in the minutes before Mr McKnight was thrown into the river.
In her police interview, Carol Edgar confirmed that she owned a horse, and had riding equipment in her house.
After she said this, an officer showed her a picture of the riding crop which police found near to area where Mr McKnight's body was dumped in the early hours of July 24.
She was asked: "Is that one of your riding crops?" Carol Edgar replied: "Yes. I bought it from the sex shop. But it was for the horse."
During a series of interview, Edgar senior said she had taken drugs on the day when Mr McKnight died.
First she injected cocaine, she said, and then later took heroin.
When she arrived home, she said, she had got on a couch in the living room and fallen asleep.
She was asked if she was aware of her Nissan Navara pickup being driven by Jamie Davison – one of the three men accused of meting out the violence to Mr McKnight on July 24.
Edgar replied: "No. Not that I'm aware."
She told police Lee McKnight had been her "cocaine dealer."
Edgar said: "He was just a cocaine dealer to me." Asked how she felt about him dying, she said: "Sad. He seemed an all right lad. He was very paranoid, like.
"I don't know if he owed money. He was always very 'hood up' – covert and fast."
Carol Edgar said she did not report the truck stolen.
Nor could she recall saying any of what her friend had reported she said.
The officer suggested she "assisted" in the murder by lending her truck to somebody.
"I swear to God, I haven't," she said. " I wouldn't dare."
If Lee McKnight was killed in Charles Street, said the officer, would she know about it?
"I don't know," she said. "I haven't killed nobody before so I don't know how long it takes."
She denied being woken by the sound of somebody being killed there.
Questioned further, she said: "I don't jump into trucks and go dumping bodies in rivers without knowing what I'm doing, if that's what you mean." .
The officer told Carol Edgar the injuries Mr McKnight sustained, spelling out that there were 30 separate cuts to his face and head, which were "not just little but really deep cuts;" tramline whip marks on his back, shins and stomach; and fractures to his ribs and skull; and injuries consistent with him being punched, kicked and stampted on.
The officer then told Carol Edgar that she "needed" to tell police what she knew so that Lee McKnight's family could be told what happened.
Her response was: "I don't know; I really don't know."
Lee Robert's dad
Paul Roberts is on trial at Carlisle Crown Court along with 18-year-old Jamie Lee Roberts and four others.
All deny murdering Mr McKnight early on July 24 last year.
From the witness box today, Roberts, 51, said he was initially awoken by calls from the phone of one other suspect, Carol Edgar, which he blocked; and then calls from another, Jamie Davison. Roberts then received a text which simply read: "It's J."
His son wasn't at their Grey Street city home.
"This was way out of the ordinary," said Roberts. "I was worried because Jamie Lee wasn't in."
"There was an awful lot of words," Roberts said.
"He was sobbing down the phone. He was saying something really bad had happened, that he was at Carol's and would I come and get him."
Calling his dad
Roberts said he was asked by his son to take a camping rucksack to a Charles Street address and knocked CCTV off in his building, aware Jamie Lee was subject to a night-time curfew.
At Charles Street he shouted through the letterbox and was let in.
"There was a lad on the floor," he said. "There was a lot of blood."
Carol Edgar was cuddling her daughter Coral, also on trial, who was "in a proper state".
Fearing his son would be implicated in the assault, Roberts told the teen to get out.
Roberts junior changed clothes, putting his old garments in a thin plastic bag before leaving.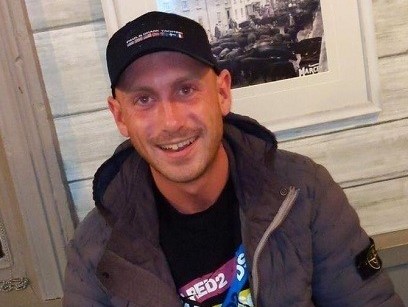 No ambulance called
Asked by Carol to check on unconscious Mr McKnight, Roberts senior said: "I cleared his airway. I remember telling them they needed to get this lad an ambulance."
But he added: "I was told an ambulance wasn't getting phoned."
"Who told you that?" asked his barrister, Gordon Cole QC.
"Jamie Davison," replied Roberts who stated, when asked whether it crossed his mind to call an ambulance himself, hinting at safety fears: "No. I was told there wasn't an ambulance getting called.
2There was a good chance there was going to be me on the floor or my son."
Roberts left, putting the white bag into a recycling bag and dropping an unknown phone he found with the clothing into a drain on his short walk home.
He returned to Charles Street in search of a lost front door key, going back to Mr McKnight to check for a pulse and saying he found a "weak" one in his inner thigh.
"So then I attempted CPR. I didn't give him any rescue breaths. I just gave him some chest compressions," he said.
That seemed to have a positive effect. Davison then indicated he would assist Mr McKnight, said Roberts, who told jurors: "He said he would take him to hospital and drop him off outside the emergency department.
Roberts said he watched Davison and the sixth person on trial, Arron Graham, carry Mr McKnight through the house towards a Nissan Navara.
"They must have got him all the way outside. I remember seeing Jamie Davison in the back seat with Lee," said Roberts.
He heard it drive away and found his key as he returned on foot to Grey Street, where his son was in the shower.
Roberts said he added trousers and trainers to the bag of clothing, and burned it underneath a bridge at Botcherby Park after an initially unsuccessful attempt.
Found guilty
On Friday six people were found guilty this week of the savage murder of 26-year-old Lee McKnight in a dispute about a drugs debt all face mandatory life sentences.
It took a jury just over 27 hours to deliver their verdicts, arrived at after a seven week trial that heard disturbing evidence of the violence and horror that is a part of the city's dangerous drugs underworld.
The jury delivered unanimous guilty verdicts on four of the six defendants, who included a mother and her daughter and a father and his son. All denied responsibility, and when under pressure blamed each other.They are:
* Jamie Davison, 26, of Beverley Rise, Harraby, convicted unanimously.
* Arron Graham, 26, of Blackwell Road, Currock, convicted unanimously.
* Jamie Lee Roberts, 18, of Grey Street, Carlisle, convicted unanimously.
* Coral Edgar, 26, of Charles Street, Carlisle, convicted unanimously.
* Her mother Carol Edgar, 47, of Charles Street, convicted by a majority 10-2 decision.
* And Jamie Lee's father Paul Roberts, 51, also from Grey Street, Carlisle (formerly of Millom). Like Carol Edgar, he was convicted by a majority 10-2 majority verdict.
Just how little respect three of the defendants had for the courts was revealed starkly during a Crown Court video link hearing last September.
Graham, in a prison-issue orange T-shirt, was seen visiting Davison's custody video booth at HMP Durham, the pair casually chatting in the doorway.
They were laughing and sniggering as was Roberts junior at the young offenders' institution in Wetherby.
Murder plot ringleader Davison – wearing a dark polo shirt and black tracksuit bottoms – casually vaped in his video booth as he rested his foot on a table.
Prosecutor Tim Evans became so exasperated by the crude conduct that he asked the court listing officer: "Will you either mute the defendants or tell them their behaviour in a courtroom is unacceptable, please?"
Yet youth Roberts – who twice vaulted over a table in his custody video – continued to lark around. He flippantly told his dad, Roberts senior, in a video booth at Durham Prison: "Dad, stop complaining."
All six defendants were remanded in custody and will be sentenced on a date yet to be fixed. Though they will be jailed for life, the judge will determine the minimum period they will have to spend behind bars before they are eligible for parole.
About Author